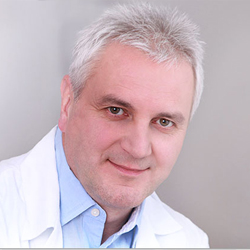 Dear colleagues,
---
Wisdom constitutes a long-lasting and intricate process of acquiring practical and theoretical knowledge.
"VITA NOVA" opens up space for effective and superior cognition by mutual information exchange, mediation of research and project results in gynaecology, urology and first of all in assisted reproduction at European level. At the very same time, this event constitutes a chance for personal contacts among colleagues, establishing co-operations as well as intensifying good relations.
In the name of all who cooperate in organizing the 6 th International Educational Event VITA NOVA I would like to invite you to this congress on September 19th – 20th, 2019 at the Radisson BLU Carlton Hotel in Bratislava.
With a joint effort of organizers, speakers, sponsors and dear guests I hope we will spend a pleasant day beneficial and inspiring for our further work.
Let me wish you all the best and I look forward to meeting you at the 6th International Educational Event VITA NOVA!
Yours faithfully,
MUDr. Peter Harbulák, PhD.
To the beginning of the conference remains
We introduce the speakers
---
Congress VITA NOVA has brought
---
To the beginning of the conference remains